Cuckqueen Story Who is in Control?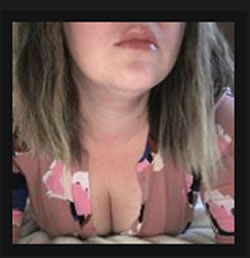 "The wind is blowing" she whispered, huddled beside the bed on the floor, listening to the wind howl through the window sashes. Gusts of wind rattled the windows and made the house tremble.
"The wind is blowing" she said again a little louder, reaching out a trembling hand to touch the blanket hanging down the side of the bed. Her voice quivered in the dark and the Man on the bed stirred . He reached out a hand and she touched it with her cold fingers and a soft whimper.
Her lips touched His palm softly, lingering there a moment as she held His hand in her own. A flash of lightning lit her face for a moment and she gasped at the clap of thunder. She gripped His hand tighter, laying her cheek against His palm, shutting her eyes.
He lay half awake in the dark, feeling her fear through her touch, hearing it in her voice. She was afraid of thunder storms and this was a bad one. Her bed was in the closet of the room unless He required her in His bed. She was never allowed to get into His bed without asking. She hadn't asked yet.
He knew her fear was growing, and yet, she held out… trying to be strong and not ask for the help she clearly needed. She didn't want to be weak in His eyes. The knowledge just made Him smile.
"Are you frightened sweetie?" His voice was a caress, soothing, calm, and enticing. She nodded her head, her cheek still in His palm, her hands holding it tightly against her face.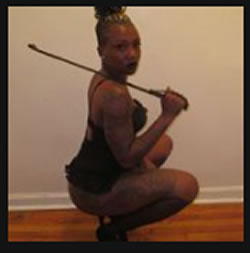 "Y-yes Sir… I'm frightened". Her voice was so soft that He barely heard it. Another flash of lightning and He could make out her features. She was shaking badly now and He decided to take pity on her.
"Is there something you would like to ask Me pet?" He watched her, like a stop motion movie, her face visible only in the flashes of light. He could see her struggling, trying to bring herself to admit defeat.
"P-please… may I share Your bed Sir?" She looked up in the direction of His face, unable to see it in the dark until the lightning flashed. She could see His features and her heart beat harder, her eyes pleaded with Him, but He was smiling.
"No sweetie, you may not share My bed". He heard her whimper, and felt her tears on His hand. God He loved it when she cried. Now was when she was going through that transition of having control, to deciding to give up that control again to Him. He was a patient Man, and waited for her decision. Who was to be in charge?
"Please Sir…. I-I need help, I'm f-frightened". Ah there is was, her surrender. Now He could help, now He was in charge.
He drew His hand from hers and sat up in bed.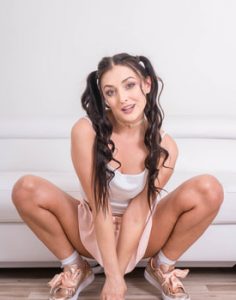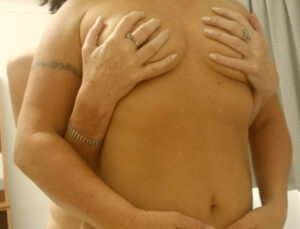 "Light the candle sweetie". He always had a candle on the bedside table and He waited while she fumbled around the table top searching for the matches. At last there was a flash as she struck the match and lit the candle. He watched the flame shiver and shake as she held it to the wick, her hand trembling.
She blew out the match and turned to gaze up at Him, her eyes wide in fear, her lips trembling, cheeks damp. The glow of the candle wavered, the shadows danced on the wall. She was lovely, and she was His.
"I'm disappointed in you pet. You took a long time to decide who was in charge. Are you not my little submissive slut any more?" He asked the question with a soft smile. He had to show her that what she thought was strength, was really weakness.
She was crying now. She hated to disappoint Him, hated when she did these things that to her mind made sense, but then realized how wrong she was.
"Do you think that asking for My help is weakness pet?" He waited for her to answer, the thunder moving off a bit further.
"Y-yes Sir. I thought You would think I was being a baby if I asked for help, because it's only thunder and lightning." She felt ashamed and humiliated at admitting such a thing. She felt cold and wrapped her arms around herself, head down, unable to look at Him.
"Sweetheart, it is My job to take care of you. It is My job to be there when you are afraid, and sometimes to make you afraid." She could hear the smile in His voice and it just made her more ashamed of herself.
"If you don't let me do My job, then who is Master?" She hated this question. She hated feeling like this. She hated it because He was right, she was taking the power away from Him, denying Him the joy of being Master. She was weak only when she decided she knew best.
They sat in the candle light silently. He watched her face, seeing the range of emotions pass over them as she thought out what had happened. Then, in her eyes, as she looked up at Him, He saw the truth. Her shame, her pride, her pain.
"I'm sorry Sir. You are right. I denied You the pleasure of taking care of me, and tried to be Master. I'm sorry."
She lowered her eyes again, weeping. He swung His legs from the bed and touched the floor with His toes. He stepped over her, not touching her, and walked to the closet where she slept and withdrew the belt hanging on the hook.
She looked up seeing Him take the belt down and whimpered loudly, cringing back against the bed.
"Please Sir, I won't do it again." She was really crying now, trembling in fear of the belt rather than the storm.
"Shhh.. Stand up." His voice was not harsh, but was clearly in control. She did as she was told and felt the firm grip of His fingers on the back of her neck. He put her face to the bed, turning it sideways, and placed just enough pressure on her neck to hold her there.
"Hands on your head and leave them there pet. You must learn, and this is not the first time we have had this discussion. It's time to drive the point home." He gazed at her pale thighs in the candlelight.
She was wearing a short, thin nightie. Bent over the bed this way the curve of her ass showed clearly, and her bare legs were more than He could resist. She put her hands on her head as demanded and put her feet apart as she had been taught, bracing herself for the blows to come.
Her fingers gripped her hair as the first stroke fell across her ass, a strip of fire blazing on her skin. Then another fell, and another. She danced from one foot to the other, crying out at each stoke, the thoughts racing through her head that this was because she decided to be selfish and deny her Master His pleasure.
Next the belt cut it's course across the backs of her thighs. She was screaming at each blow, choking on her sobs now, her backside feeling like a thousand pin pricks. Then it was over, the belt was returned and He walked back to the bed and got in, leaving her in her place for a few moments.
"Now pet, would you like to ask me something?" This time there was no smile, no amusement. This time, there was only concern for His girl, and the desire to chase away her fears.
"Yes Sir." She coughed and sniffed, shaking as she waited for permission to move.
"Then get up and ask Me properly sweetie". She put her arms down, and gently knelt at the side of the bed, her thighs and ass causing a lot of pain in this position. Her face was filled with misery and He knew her tears now where not the tears of punishment, but of true contrition.
"Please Sir, may Your girl share You bed?" She waited, her heart in her throat. The storm was forgotten, now all that mattered to her was to be in His arms, to feel the comfort and protection His arms gave her. She knew she may be sent back to bed, but it was as if every fiber of her body was screaming out for the gift of His embrace.
At last He smiled that smile that told her everything was going to be ok and He lifted the edge of the blanket.
"Yes pet, come and sleep with Me tonight" He said in that husky voice of His. She quickly crawled into the bed and snuggled against Him, fresh tears falling against His chest. These were tears of happiness, gratitude, and relief.
Now……. She was home, safe in His arms.
Cuckqueen Story
NYC base CuckQueen Story seeking cuck.
Cuckqueen Mimi is my name.I know what I want, I will not settle for less. With my experience and skills I am now opening my kingdom.
I am seeking a cuck slave.femboy, sissy, CD, Bi, BI-curious All cucks are welcome.35yrs of age and older.Very Clean , well manner and submissive.
Open to race and body type(fat or skin), your submissive skills are not judge by your looks here.
Ready, willing and able to serve a very dominate Black couple.
Read and understand my profile before you contact me.
I am ready to start your training online with serious intentions of meeting you and molding you into the cuck I seek.
My Cuckqueen Story fantasy
I am so Cuckqueen Story excited. I love Cuckqueen Story hotel parties and tonight i get to really use the new Cuckqueen Story spanking bench He has made. I have on Cuckqueen Story sexy black lace mini dress and Cuckqueen Story lace panties. He just has Cuckqueen Story jeans on, total commando. His sub is there. Her Cuckqueen Story blonde hair in Cuckqueen Story sexy little braids with her Cuckqueen Story big tits pushing out of her Cuckqueen Story pink and black Cuckqueen Story lace top. No panties, he has her Cuckqueen Story trained. He grabs me by the Cuckqueen Story hair and stands me up.
He pulls so i am on my tip toes barely balanced as he Cuckqueen Story kisses me. He moves down to my Cuckqueen Story neck where he nibbles then bites down. I fall against him. He wraps a Cuckqueen Story hand around my Cuckqueen Story throat and guides me to the Cuckqueen Story bench. He shoves me down face first over it. He buckles my wrists in on the side.
" Slut, take her panties off" he says to his Cuckqueen Story sub she jumps to do his bidding. He then buckles my ankles with my knees spread bent on the step. He gently rubs my Cuckqueen Story ass then gives it a few good Cuckqueen Story smacks. I moan at the stinging. "Like that do you my Cuckqueen Story dirty whore?" He asks. I whisper yes back. He has an array of Cuckqueen Story tools laid out on the bed. Cuckqueen Story Leather paddles, a Cuckqueen Story crop, wood paddel, a feather, and tons of toys. I am excited and afraid.
"Hmm. Ok my sexy little Slut, you get to decide. What does my whore get first?". He asks. She hands him a heavy flogger. He smiles. He has her take a small flogger. He instructs her how to hold it. She hits my ass softly i moan as my face turns red. He has never had his sub use me before. "Fuck yes, keep going Slut" he growls. I cant see her face but from how she begins to smack and hit my ass i think she is enjoying herself.
I love the sting. At some point he joins in with his heavy flogger.l occasionally holding back to rub my ass. He walks around to my face. He leans down and kisses my lips. "Such a good whore. Now warm up is done." He puts a rubber ball gag in my mouth and buckels it.
He switches to using the crop on me. Thighs, ass, even clit all take the stinging. I am squirming not sure if i want to move towards the pain or away. "Your doing so good my whore. Now i am going to use the wood paddle. I am going to give you 10.
I want to hear you thank me after each hit around that gag. Miss one and i start over". I can feel fear for the first time. I dont like the paddle. It hurts not just stings. Whack! The first hit steals my breath away. I moan and barely remember to grunt out "thank you" around the ball in my mouth. Whack! "Thank you"Whack! I start to feel tears on my cheeks. "Come on Melissa, i can take it no problem" his sexy slut encourages.
"Thank you" comes out barely understandable. WHACK! I cry out. " no, more" i whine. " what, i dont think that was the right words my whore, tell you what. You get to 10 and i will fuck you on this bench. But if you dont i am going to make you watch while i use my sexy little slut here". I nod my head. Turned on by both suggestions. "One" he says. WHACK!. "thank you" whack! " thank you ".
I try. I really do but by 6 the tears are pouring down my cheeks. He comes around the table. He leans down and kisses the tears on my cheeks. "Fuck your so beautiful right now" he tells me. "But a deals a deal. Come here Slut."He grabs his Slut and pushes her to her knees. She eagerly unbuttons his jeans and grabs his hard cock. She starts sucking him with all she has. She cuts her eyes at me and gives me a sexy evil smile as she shows how much she enjoys sucking his cock. "God damn" he moans. I close my eyes turned on but wishing i was in her place. He grabs my hair.
"No, your going to watch. I want you to see how a good slut treats her master". He lets go and puts his hands in her hair. Forceably fucking her mouth. His growns turn me on like nothing before. After a few minutes he moves her to all fours in front of him. He slides his cock in her pussy. " see this is a good Slut. Her pussy is ready for my cock, she will do anything for me. Isn't that right Slut?" "Yes sir. I will do anything for you"she happily answers.
"Do you like my cock Slut? Tell her how you like it" he orders." I love your cock Sir, its so fucking good. Please fuck my pussy harder. I need you to cum in my pussy. " she begs. I moan. My. Face red with embarrassment but my pussy drips. I love watching him use his sexy Slut. He pounds her hard. "Fuck, yes. Your pussy is so wet and tight.i am going to cum!" He groans. " yes Sir, please fuck me. Cum in my pussy" she chants over and over as he thrusts hard.
When he cums he jerks her back by her throat and burries his cock deep. I watch as he shoots his cum in her. They breath locked together for a minute. Then he stands up and unbuckels the ball gag. "You liked that didnt you whore?" He asks. "Yes," i whisper. He rubs his cock over my face then has me suck his cock clean. " thats a good whore, suck it clean, taste her pussy. Next your gonna lick all my cum out of her pussy. Arent you my dirty whore?" "Yes" i moan.