Cuckquean Threesome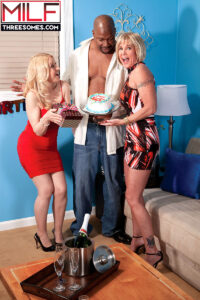 Our first Cuckquean Threesome adventure took us to Ibiza and honestly, what would be a better place to fulfill our fantasies than not far away from home. The Cuckquean Threesome Adventures actually started already back at home, where me and my wife Birgit tried out Tinder. Who hasn't heard about Tinder before?
Itis a dating app where you can decide based on the other user's photos and description whether you would like to meet with or not. It isn't a polite comparison, but it feels like being a kid in a candy store 🙂 We added a few photos of ourselves and wrote that we are looking for a bi-girl with whom to spend time with. Finding a third person seemed as an impossible task but after some time, one girl thought we could get a long pretty well.
She was a very attractive Estonian girl, but unfortunately our Tinder chat didn't get very far. But for us this chat was rather an important milestone as someone actually was interested in us. Tinder became a fun travel app, where me and Birgit simultaneously were looking for suitable playdates.
When we got our new travel destination Ibiza, we got a new match and wow, with a super attractive girl who looked amazing and as a bonus, had beautiful breasts! When we asked if she understood we are a couple and were looking for a third one, we got a simple answer: "Yes, that suits me." After some time, the girl asked if we could chat in Whatsapp to exchange some photos that is not allowed in Tinder.
At some point we realized that we are sending very naughty photos after which the girl asked more and more. We had sent quite several photos already, but she hadn't sent us anything yet. We understood that something doesn't add up and told her, that it is now her turn.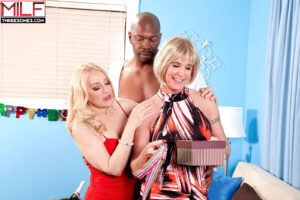 Then we found out she/he was sending us photos of different people and understood it was someone who just wanted to indulge sexual desires and fantasies in that way. We were quite pissed and didn't want to believe we got cheated,but promised to more careful the next time.
The situation changed however on the fourth day of our trip and this time it was a 34-year-old Pamela from England. Although the name resembled the world famous pornstar-actress, her breasts were relatively average. After some chat we realized it was a real person this time and decided we should meetand we set a date in the evening.
We spent the day in the beach and were walking down the beach promenade when a random girl checked us out from head to toe, stopped for a moment and looked with a smile at Birgit. We later found out it was the same Pamela and as she stayed in a hotel very close to us, our roads just accidentally crossed. Birgit and l spent a nice day at the beach and were quite excited as we knew, thatwe have a date in the evening we had waited for a long time.
Cafe Del Mar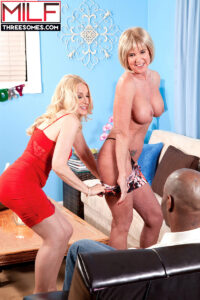 After a long day, we went to a nice café close to the sea with amazing music, great service, cheese Nachos and Sangria 🙂
Time flew and after some chat with Pamela we got a strange feeling our date with Pamela is not going to happen. A little before midnight we were back at the hotel and as Birgit was tired, she laid down in bed. It took maybe half an hour when Pamela texted us and invited us to her hotel.
Voila! I woke Birgit and told her we definitely should go. Although Birgit was a little tired I convinced her to wake up and get ready for our date. It took us 16 minutes to get to Pamela's hotel and we texted her and waiting for her after which she replied: "I'll be right there". Oh, how excited we were as this was an entirely new situation for both of us and I don't know exactly how Birgit felt but I was very nervous.
After a moment, we both noticed a woman walking towards us and understood it was her. We said hello and started walking towards her hotel room. We chatted a little in the room, but nothing about sex. At that moment, I only thought that this person is real and we can go on from there. Me and Birgit had agreed beforehand, that we are not going to do anything physical that night and tried to get a date for the next day. So we agreed with her we would go to a nudist beach, as Pamela also hadn't gone there yet.
The morning started like any other day, but we still felt a little different. After breakfast we went to a car rental and Birgit checked meanwhile if Pamela is still coming and where we would actually meet.
We agreed we're going to buy some drinks for the girls and pick her up. We had to drive to the nudist beach a little over 20 kilometers and didn't chat much on the way.
Looking the nudist beach 😉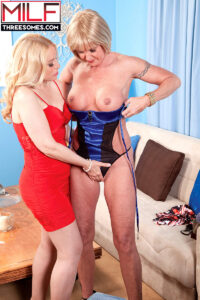 After half hour drive we started walking straight to the beach but found out it wasn't a nudist beach – there were some topless girls, but that was about it. At first we thought we were mistaken with the place but after some walk we saw one girl lying without clothes on.
But hello, there were thousands of people and only one girl naked! We decided to walk a little further and soonwe started seeing more people in naked Adam and Eve costumes. Finally, we found a suitable place and agreed we don't have to get naked if we don't want to. We all three lay down and after some time Pamela took off her bra. Birgit followed her lead after one moment.
Pamela & Birgit
Then I saw Pamela took off her panties and laid on her stomach. Me and Birgit looked at each other and realized we have to do the same. There we were, the three of us naked on the beach in a situation I could have never imagined twenty-four hours ago. There were two beautiful naked girls in front of me and that gentle breeze was so nice.
Water was amazing …
We had a great time and opened a bottle of champagne that I served for two naked girls. It was an odd feeling walking around with a bottle and playing a waiter. I did a few jokes about myself not being able to lay on my back due to my erection. Few times I felt my dick couldn't stay calm when serving champagne to Pamela, so she told me to look at an old man next to us that actually helped.
Don't nurn yourself !!!
Then Birgit said she would put my hard dick in her mouth right there. By the end of the day, I was burnt on my back and my stomach was white as a paper :DPamela suggested at one point we should go swimming. It was very rocky beach but as there was no other option for cooling down, we decided to get wet.
Birgit 😉
Birgit followed Pamela and I also joined them. They were sitting in a transparent water and I could see them both from head to toe – I didn't have to use my imagination anymore. Pamela was slim and with cute little tits. From there, the girls got a little naughty and started splashing with water until they were both completely wet. I had said earlier to Birgit that one of the most sexiest views, in my opinion, is water running down a naked female body 🙂
Damn Jellyfish !!!
We also got a little excitement when we saw jellyfish in the water that are quite dangerous. Both of the girls got a little burnt, but fortunately nothing serious. Pamela, however, showed some interest in Birgit when she looked her ass a little closer on the spot where she got burnt. She touched Birgit with her fingers and promised everything will be fine 🙂
Two mermaids
It was a fantastic end to the day and it was time to pack up. We went back to our hotels and agreed to meet after a little nap.
When we got into our room, Birgit told me: "You know, honey, today is the day when you will get two women in your bed." I was a little skeptical at first, but I really wanted to believe what she said.
Pamela suggested to meet in a nice beach bar with white couches and romantic red lighting. We took some cocktails and get to know each other more. Birgit was wearing a skirt with nothing underneath and turned out Pamela was also not wearing anything underneath. She said underwear is not her thing and hearing this got my heart pounding a little harder.
Red, red, red …
At least this time, I was wearing pants and could hide my excitement. Women were sitting next to each other and Pamela started touching Birgit. She was a very sneaky woman and the way she looked at Birgit, showed an increased interest. After some cocktails we decided to go back to Pamela's hotel but found a cool bed with chains connected to the ceiling. Pamela really wanted to take photos of it and after a moment me and Birgit joined her. And what followed was K-18, as First girl's kiss
Pamela loosened up and the girls started kissing each other which led to serious making-out. At some point, I was totally unnecessary in that bed and I believe other guests looking at us in the club were thinking the same. Believe me, it was not only one kiss and Pamela wasn't the only initiator, my dear wife couldn't also stop kissing her. I also saw Pamela's hands were continuously moving under Birgit's skirt.
As the situation was new to us, I asked Birgit if I could touch both of them, as it was quite difficult to just lay there. Birgit said it's not a problem and I noticed my hands were under both of their blouses. I remember that both of their nipples were so hard…
Then Pamela tried to kiss me, but I didn't know how to react and politely declined. Me and Birgit had an agreement, that when we share a woman in bed, it would be pure sex for us. Women could kiss each other, but that wouldn't be allowed between me and the other girl.
Kissing is a sensitive subject for us and we explained to Pamela this, too. She said it's cool with her and we continued our little adventure. At some point we left the club, as both of them were so turned on, we probably would have been kicked out of the club.
We paid our bill and went to Pamela's hotel andhada few cocktails.I went to take a shower, butdidn't want to waste much time because, well, I knew there were two naked girls kissing each other in the other room…I walked back into the roomand like I told, they were already kissing and enjoying each other. I started touching both of them when Pamela took a sip of Gin Tonuc and let it drip to Birgit's mouth from hers.
That Gin Tonic dripped down to Birgit's pussy and Pamela reached down to lick it.
Birgit face said it all – Pamela's tongue knew exactly what it was doing. I wasn't sure I could touch Pamela so I asked from Birgit if it was okay. After a nod I stood up and as Pamela was licking my wife's pussy, with her ass up in the air, I touched gently her vulva and put my tongue in between.
Entirely shaved pussy seemed to like it. Birgit also was slightly moving when lying on her back and Pamela knew exactly what she was doing. It was hard to put everything into chronological order but there were a lot of hands and lips everywhere. At one point, I put both of the girls lying on their backs.
I started playing with Birgit and whilst doing it, slipped my fingers in between Pamela's legs. Pamela was with a very sensitive body because her first orgasm was very quick. Birgit was in a situation where she had never been and while there was another woman kissing her while I was licking her pussy, didn't get her the orgasm as fast as expected.
At some point, I went behind Birgit and entered into her, at the same time touching her clitoris with my fingers. It was an interesting situation where Pamela was still next to Birgit with her own and my wife's hands in her pussy doing erotic movements.
Their collaboration was good and Pamela got at least five orgasms. I felt from Birgit's body that she's also near grand finale. We switched positions and I started to lick Birgit's pussy again while touching her boobs. I know exactly when she's about to finish – the next moment, she screamed and pressed her legs tightly together. Interesting experience when a woman gets an orgasm while a man is licking her pussy and another woman is kissing her, while touching her everywhere.
Both of the women got their part and as I was pleasing the entire time them with my tongue and fingers, then Birgit let Pamela know it was my time. Birgit grabbed my dick and put it in her mouth.
The next moment, Pamela did the same thing. As every woman's technique is different, I also felt the difference then. Birgit already knows what I like but Pamela's approach was different and didn't unfortunately work. I had said to Birgit previously, that it one of my dreams is two girls giving me a blowjob at once, so they did it. Pamela stood up and came on top of me to let me in her pussy. I said it is very cool but let's use a condom first, what cancelled the whole action.
Turns out that Pamela is a woman who never uses a condom while having Cuckquean Threesome. Me and Birgit have an agreement, that we are not having sex with strangers without a condom which unfortunately ended our little Cuckquean Threesome sex adventure. We didn't understand in the end whether Pamela was tired from all the orgasms or whether she still was more interested in Cuckquean Threesome Birgit.
In conclusion, it was exactly the Cuckquean Threesome experience we needed. We got to have a Cuckquean Threesome and Birgit got to touch a woman for the first time during our Cuckquean Threesome. I saw how she enjoyed it and that gave an opportunity for the next Cuckquean Threesome. The Cuckquean Threesome experience was very enjoyable as any other part of our relationship. It definitely got us closer or at least I believe so. We saw Pamela the next day in the same bar randomly and me and Birgit both remembered the moments from our Cuckquean Threesome night together 🙂
I believe it was destined for us to get this Cuckquean Threesome experience during that trip because our trip was postponed for three days which is why we got the chance to meet Pamela for a Cuckquean Threesome. She would have come on the day when we were supposed to get back to home.
It was also funny that we saw her again that bar the next day – If we would have left 5 seconds later from our hotel room, we wouldn't have seen her, but we did. It was like a good bye, we were polite and wished luck to each other and I think we will not meet again. I hope she will also remember our Cuckquean Threesome time together in a Cuckquean Threesome positive light 🙂
https://www.lushstories.com/stories/first-time/-first-mff-threesome-ibiza-nude-beach-.aspx