My Cuckquean Wife loans me to her friend
This is a true story about my Cuckquean wife who loaned out her Husband.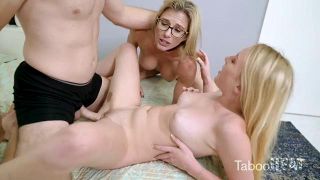 We are an average couple married 24 years with 2 grown children. My Cuckquean wife Tina just turned 50 and I'm Mike and 56. We have had a good sex life and lately we had been experimenting with toys and fantasies. We have also tried a threesome FFM a few years back with a divorced friend of my Cuckquean Wife. Tina enjoys watching me with another woman. She said I am free to go ahead when I want to but she won't set me up and will just be my Cuckquean Wife.
Our rules are simply that I discuss potential encounters with her for approval and not hide any encounter from her. She prefers that it not be her friends however many are separated and divorced so they are prime targets and typically safe. When I ask her should I use a condom she says depends who the person is but in general if I or my Cuckquean Wife know her and safe no condom.
I asked her should I cum inside or pull out since we do not know there status with birth control. Most are late 40's so my Cuckquean Wife said she likes knowing I came inside so preference is always inside and assume they are protected. I asked what if they say no to cum inside she just smiles with that dirty look and says it's up to you if you want to cum in her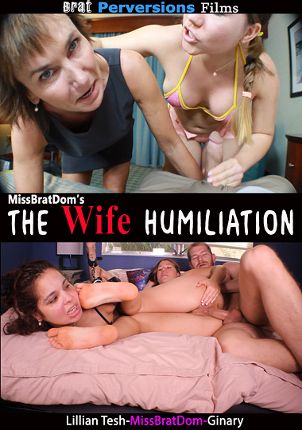 We had a number encounters with her divorced friend Kim, although not really threesomes, Tina was naked in the bed and watched. Some occasions she took pictures with my cock in Kim without a condom and cum leaking out of her. I was just the temporary husband satisfying Tina's desire to watch and the divorced friend's needs filled with someone they felt safe with. We moved on from Kim to a year or so later to another friend Jody
Jody lived across the street and was over most nights having coffee or drinks, her marriage was ending and they were working the details on selling the home and moving their own directions.
A number of months ago Jody had told Tina she was seeing a married man who worked near her office, he was much older than Jody in his 60's. She was still living with her husband separate rooms of course at the time Jody was in her late 40's, one adult daughter and wanted the attention.
Cuckquean Wife Watches

One night my Cuckquean Wife Tina had a number of her girlfriends over to play a game. We made the game more interesting with the loser having to drink a shot. I was acting as bartender and played for a bit but I knew my Cuckquean Wife and the girls were in the mood for getting drunk and I prefer not to have that morning after feeling so I stayed as the bartender. The shots were from various alcohol types so mixing is not always the best but I knew once it hit the girls and my Cuckquean Wife they were all going to be sorry in morning.
They certainly had more than a dozen shots each before they called it quits. It didn't take long till the girls and my Cuckquean Wife were feeling good and talkative. Jody and my Cuckquean wife were the last two at the house and both were in bad shape. Jody talked about her affair with Ron an older married business owner.
I don't think she would have said much if it wasn't for all the shots. She could barely stand up. She said it was a good thing Ron had a vasectomy as she was fertile Myrtle. This was too much info I told her and she just repeated it over and over again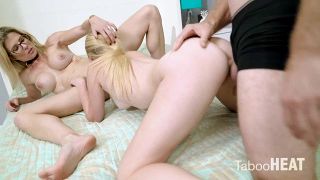 Of course this stuck in my head every time I had seen her. Fertile and separated. After about 4 months the relationship ended with Ron and Jody was again alone.
One weekend we invited her over to the campground since they had a band playing. It was then I thought this was my chance to try another of my Cuckquean Wife Tina's friends out. I made sure her drinks were kept full and she was feeling good. When the band stopped playing I said there is no way in your condition that you can drive home so you will have to stay the night with me and my Cuckquean Wife.
We set up the couch for Jody and Tina and I went to the other end of the trailer to bed. As I lay in bed I mentioned to Tina I wonder if I could get Jody to fool around a little. My Cuckquean Wife wife said I don't know, she had not been with Ron for some time and I don't think she is seeing anyone. I am not sure if she would since I am here. I said I can tell her you are asleep passed out.
Me: Can I try?
Tina: That's up to you
Me: No Tina that is not what we agreed when the opportunity comes up, my cock belongs to you, you have to tell me that you want me to try.
My Cuckquean wife said yes if you let me sleep go try, but she probably won't do anything knowing I am in next room
I asked Tina if she does should I use a condom
It's up to you, she is probably ok.
Ha Ha, remember that is your decision my cock belongs to you
She had that smirk on her face and said yes I don't want you to use a condom
Should I cum in her, do you know if she is on birth control
She smiled yes I want you to come in her, I don't know what she uses, assume so since she had been with Ron and mentioned they did not use condoms
I thought to myself she forgot the drinking game where Jody said Ron was fixed and she kept saying she is fertile Myrtle
I said you will be ok if I came in Jody, she smiled and said yes I want that
So I left our room, closed the door and walked quietly to other end of the trailer. It was dark and she didn't see me coming.
I could see a little light from her cell phone where she was on Facebook. I startled her as I got close to the couch where she was laying. I reached under the blanket and said what is under this. She jumped and said nothing. As I pulled the blanket back I seen she had a pair of Boxer shorts and a t shirt clearly without bra.
The shorts were baggy and she put her hands down above her crotch since the blanket was gone. I slid one hand up one leg and brushed her pussy. Yes it does seem like there is nothing under here
I did it again and she said don't, Tina is in the other room. She will kill us
I said Tina is passed out, too many drinks, she will sleep like a log
I then grabbed the boxers with both hands and was trying to pull them down but she kept hold of them saying your bad, stop it. I said I just want to look and see if it is nicely shaved
She said It is shaved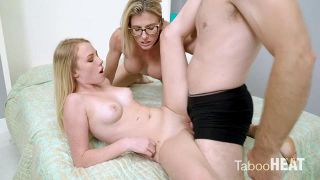 I was persistent and eventually she let me pull them down still holding the top still saying stop it. It was shaved like she said with maybe a week's growth since shaving. She had a larger, longer, wider pussy shape with and outward lips than my Cuckquean Wife Tina's pussy. Tina's has more of an innie, small, tight and not much outer lips shows at all without opening up with my fingers. In my mind the smooth innie's are the best to look at, everything is hidden and ready to explore with my tongue
I continued to pull the shorts off and she kept saying your bad, Tina's going to kill us.
Once her shorts were gone she kept her hand over her pussy so I pulled her hand away saying I just wanted to see it.
I slowly started running my hand over her mound gently touching her clit. Worked a finger inside and around her clit and then she was in another world. It must have been a while since she was touched and the drinks left her guard down. She started to moan and I was sure Tina would hear her.
Maybe that was Jody's plan to stop. Who knows maybe the girls planned this
I then pulled my pj's down to my knees and started stroking my cock which was starting to straighten out. She looked at me and said no were not doing that. She didn't try and touch me. I thought about licking her pussy but my preference has always been best right out of the shower and Jody had been there all day sweating in the heat.
I said I just wanted to touch her pussy and look at it while I played with my cock. As I continued to rub her pussy she was moaning a little louder. I leaned in to lightly bite her nipples which showed through her t shirt. While leaning over Jody I was able to rub my cock up and down her pussy lips brushing her clit She was enjoying the touch and was getting quite wet. Not an easy position to penetrate so she felt safe laying on couch and me kneeling on floor beside.
Tina absolutely loves when I rub my cock up and down her pussy from clit to bottom with little pressure pretending to slip my cock head into her hole in as a tease.
I started poking just a little of the head in like I do with Tina as I pulled my cock up the length of her pussy.
I remembered her calling herself fertile Myrtle and she knew Tina and I were done having kids but probably didn't know it was Tina that had the operation not me. She had no idea I still was loaded with potent sperm and I had no idea if she started taking birth control since splitting with her husband.
I alternated back and forth from rubbing with a little pressure slipping maybe a half to an inch in her hole to back up to my knees and just jerking my cock while using my other hand to rub her clit.
This went on for maybe 10 min at most teasing her with my cock and pulling away so no cock was on her pussy.
I was very close to cumming so again I started rubbing but this time I was moving my cock more in and out half inch to an inch in her pussy as I was rubbing along her lips. She never tried to pull me closer or did I try to push any deeper. She was losing control with just a little bit of head at her opening and sliding over her clit.
Jody`s pussy certainly was not as tight as Tina`s. With Tina my cock is confined inside her touching all sides. With Jody she seemed more stretched and maybe just the longer shape felt so different
I was back on my knees and jerking my cock and when I was right on the edge of cumming the thoughts of her being fertile Myrtle made me think, this is real life should I cum in her. I was thinking what Tina said to do and how dangerous this is. I got back up this time leaning in more towards Jody, nibbled on a nipple, spreading her legs a bit with one now overhanging the edge of the couch. She even flipped up her t shirt for a few seconds to show how big her tits were.
Leaning in closer now with better access with one leg on the floor I rubbed my cock up her pussy to her clit few more times faster with a little more force. Again, by slipping into her pussy opening maybe an inch she was losing control. As I felt myself ready to explode I pushed just the head just a little further maybe about 4 inches into her hole and I released a few days of cum into her.
She was breathing fairly heavy and as I pulled my cock back a bit and slide again across her clit she let out a load moan I know Tina must have heard that one even with door closed. Jody then squirted a clear liquid towards my hand. Did she just pee ?Or was it squirting ? I have heard about woman squirting when they cum but never seen someone do it. This was the first time I had ever seen a woman squirt and was quite shocked. I went to the bathroom and grabbed a towel to wipe things up. She seemed embarrassed and said thanks and proceeded to wipe the couch and herself.
I then left her smiling and saying I hope you have a good sleep now
I went back to the room and slipped in the bed. I thought my Cuckquean Wife Tina was asleep but she whispered did she do anything?
Yes
Was it good?
I said yes and I jerked off but when I was close I put my cock in a bit and came inside like you wanted. She said I figured she would do it, I wonder if she will tell me tomorrow.
The next day rolled around and the campground had a corn boil that evening, we invited Jody to stay another night and she said she needed to pick up a few things in town and shower and would think about coming back for the night.
I asked my Cuckquean Wife Tina a number of times during the day if Jody said anything, she said nothing to Tina, Tina said she probably won't as she has dated married men before and is pretty quiet about it. I wondered if she will come back tonight and Tina was not sure
Sure enough 6 pm rolled around and Jody returned, had some food and more drinks. I turned in early and before I went to back to the trailer I asked my Cuckquean Wife Tina again did she tell you. Jody kept it to herself knowing she had her friend's husband and even returned a second night probably hoping a second round was possible.
When I went to bed I asked Tina do you want your cock to cum in Jody again tonight She said we will see (that's her usual saying which usually means no). I went to bed and fell asleep quickly while the girls were still talking and drinking on the deck.
Not sure how late it was but I was awoken by someone pulling my pj's down. It was my Cuckquean Wife Tina. I said do you want me to cum in Jody again. She said no, this is my cock tonight. She was on her period and sex was not normally on her mind when she was on her period. Maybe it was the drinks or Jody in other room but my Cuckquean Wife was horny.
She sucked my cock so well, I was lucky if she sucked my cock maybe 3 times a year so It's not only a treat but a big surprise. As I was getting close I was telling her I was going to cum, normally she would not swallow and she would ask me to cum over her pussy lips as she spread them open but something was different tonight. I said where do you want me to cum? On your pussy? No. In your mouth? She just sucked harder and my Cuckquean Wife swallowed it all.
Tina is such a wonderful Cuckquean wife, in public a reserved woman, in the bedroom she has that naughty side to allow her husband to be shared with her friends. So far they have all kept it quiet but someday it may get out that my Cuckquean Wife Tina will loan her husband to those in need. I'm not sure if it is really because her friends need a cock or if it is my Cuckquean Wife Tina that has the need to know my cock is cumming is another woman's pussy, not just any pussy but someone she knows well.
In any event I love my Cuckquean Wife Tina very much and don't push the issue to fuck her friends. As the opportunity comes around I will listen to my  Cuckquean wife wants and needs and put my cock where she tells me to. I don't have any reason to go behind her back as she is the hottest woman I know. Her friends are nice but it is just sex and not love. It turns me on knowing my wife wishes to lend me to her friends and even more allows me to not use a condom and cum inside. What more can a husband ask for?
It has been 6 months since we experienced Jody and I always tease Tina who will be her next friend that her husband will be allowed to cum in. She says a stranger next time but I think she gets very excited when she has known the person that I am cumming in on a personal level.
I guess I will only know when she invites another friend for an overnight stay at the campground, few drinks and see what happens. She has many separated friends and friends I'm sure in not so happy marriages or maybe a co-worker that has a naughty side like Tina.
As for Tina she says I am all she needs, however I said to her that as men get older certain parts may not responds when called on and I know sex is important to a happy life. I have told her my wishes to see her have sex with someone else, my desires are different than hers as I would rather it be a stranger that won't try to meet again, condom since stranger, and neutral location ( not at our place). She can then tell her lover what she wants and have him follow through to multiple orgasms.
I would record and quietly sit on the sidelines either watching in the room or secret camera so he does not know I'm watching.
For me, I will never know how I feel about sharing Tina till it happens, she certainly was not a virgin when I met her and has had many partners. Like most woman they never really want to admit how many but with her tight pussy, naughty bedroom fantasies, her swinger friends and her outgoing personality, I can only imagine she has not gone without. My wish is to have her experience her fantasies to the fullest as long as I am her main man.
Author: 

mikee