Cuckquean Mother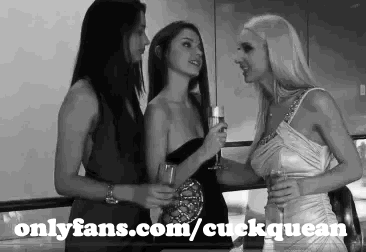 There was a time in my mid-late 30s, when I had a girlfriend — a few years younger than I – who was simply gorgeous. Pretty face, body to die for, smart and so, so sexy. Let's call her, K. Despite the age difference, her Cuckquean mother — lets call her, Cuckquean Mother — approved of our relationship. Nor did Cuckquean Mother mind whenever I stayed overnight.
It must be said, too, that Cuckquean Mother, who was probably older than me by the about same amount I was older than K, was also a stunning, sexy woman.
Cuckquean Mother would occasionally throw a cheeky remark into our conversations; which I never thought much of at the time. Both K and Cuckquean Mother seemed to be fond of lounging around of an evening in matching silk gowns and, more than a couple of times, I'd be scrabbling for traction in my brain convincing myself that, "Nah . . . Cuckquean Mother  didn't just deliberately flash me there, did she. Nice lingerie though. Stunning figure! Nah . . . Surely not." Until . . .
Cuckquean Mother
One night, K whispered to me that we needed to go to bed early, as there was something she wanted to try out. Before long, we were both doing the fake yawn and, 'Gee, I'm tired' routine before shuffling off. In the bedroom, we hugged, kissed and felt her firm breasts press into my chest as my hands moved against the silk gown; feeling her back and cupping her tight arse in my hands. My cock was soon betraying my thoughts as we pressed ourselves against each other.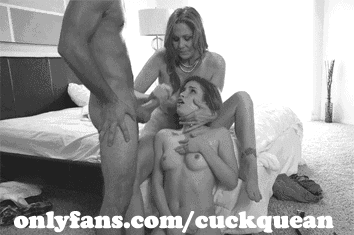 K gently pushed me away, slowly removed my shirt and shorts and, as she untied the sash of her robe and slipped it off, guided me backwards onto the bed. "I think you're going to enjoy this" she said. "Oh yeah? And what's, 'this'?" She told me her plan was to give me the longest, slowest, oiled up, on-the-edge handjob I would ever experience. Who was I to argue?
I lay on the bad and K sat on my thighs; her back to the door. The room lit by two candles. K took a handful of oil and started, ever so slowly, as she'd promised, gently stroking my rock-hard cock. Whenever I'd tense up, she'd whisper to me to relax. I reached for her breasts. She gently brushed my hands aside, "I want you to just lie there and enjoy this". And enjoy it, I was.
K proved so damn good at sensing when I was close to cumming and backing off her strokes just enough to hold me there for a bit. It was almost painful. It was exquisite. The wetness of her pussy and her stroking her clit now and again told me she was enjoying it as well.
I don't know how long it was before I noticed that the bedroom door was open a little. To be honest, I was on the 'couldn't care less' cloud. I did notice, though, when it opened a little further. And, I couldn't help but notice when I caught a glimpse of white, of satin, in the candleglow that was escaping the open door. While I was seriously immersed in the magic K was making, I was becoming more aware of Cuckquean Mother presence over Ks shoulder.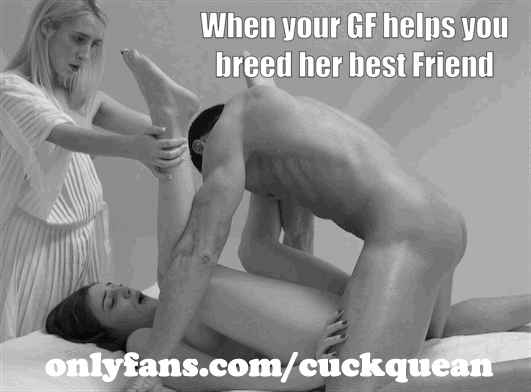 The door opened a little more, maybe 60 cms now, and I glanced over to see Cuckquean Mother let her robe slip and let her hands and fingers move to her shaven slit. I was struggling now. Struggling to resist the peak K had taken me to and struggling with the extra arousal from watching Cuckquean Mother stroke her clit and put her fingers inside her glistening pussy. Despite Ks efforts to hold me there, it was no use.
She'd balanced me there for an hour, but the extra 15 minutes of Cuckquean Mother watching threw me roughly over the top. I came. I swear the ceiling of that room is still stained. Bolt after bolt of hot cum shot out of me; into the air, over Ks breasts and her hands and onto my stomach and chest. I was spent. K lay down on my completely relaxed body. Just before I passed into sleep, I saw Cuckquean Mother smile, pick up her robe and head down the hallway after quietly pulling the door closed.
It was around 2:00 am that I roused just enough to need some water. K was snuggled next to me, her smooth skin perfect to the touch. She was sound asleep. I stumbled up, went to the door and padded in a weaving path, naked, down the hall and to the kitchen. There was enough streetlight outside shining in to show me the way. I filled a glass off the sink with water and drank it. I refilled it and stood there, quietly, sipping some more. I felt my cock harden a little as I reminisced of what had happened just a few hours earlier. "Wow . . . That was something".
I placed the glass back on the sink and turned towards the hall. As I moved towards it, a figure came towards me. I thought it was K. As the figure moved into the kitchen, though, my heart hit its redline.
It was Cuckquean Mother.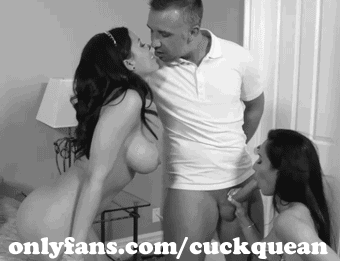 She put a finger to her lips with one hand and, moving closer, placed the palm of her other hand gently on my chest. She lowered the hand from her lips, placed it on my shoulder and rank her fingertips down my arm, across my belly, and onto my stiffening cock. With her other hand, she placed my hand onto her breast. I soon had her magnificent breasts cupped in my hands. She pulled me close; never letting her hand leave my cock as she gently stroked it. I ran one hand down her back, the other down to her hot, very wet pussy.
She took a half step back and, again, putting a finger to her lips, slowly kneeled before me. She kissed and licked the head of my again rock hard cock, before slowly taking it into her mouth: shallow at first, then slow and every deeper with each stroke, until she took it all down her throat.
Satisfied that I was rock hard, and no doubt tasting the precum I felt oozing with each throb of my cock, Cuckquean Mother rose to her feet, smiled at me, turned and bent over to place her hands on the kitchen bench. "Fuck me" she whispered, as she gracefully shuffled her feet apart.
I entered her gently. A little at first; just the head of my cock as I reached around her to gently brush her nipples with my finger tips. Small, slow, short strokes. My cock just inside her, then out just enough so she could feel me at her lips. Ever slightly deeper slow strokes before I could take it no more. I had to be deep inside her. Slowly, I pushed my cock all the way into her. The withdrawal she might have been anticipating never came. Pushing deep and firmly inside her now, she gasped; arching her back and pushing against me.
I slowly stroked, full length, in and out of her. She was moaning quietly now, writhing, unable to stay still and meeting my strokes with her own. It felt so good. Too good. I was battling to hold back and so was she. I lay against forward against her back and whispered, "Oh God, Cuckquean Mother, You're amazing! I'm going to cum!" Her breath was quick now, her face showing her pleasure. "Cum in me. Cum now".
I blew my second massive load for the evening deep inside Cuckquean Mother. As the first bolt shot forth, I felt her start to quiver, then shudder; her pussy pulsing, clamping hard on my cock. Both of us could barely stand.
After a moment I straightened. Cuckquean Mother stood up, turned and went to her knees again. "Can't have you going back to bed without a clean" she whispered. She stood up, we held each other like true lovers and kissed, passionately. We stepped out of our embrace and stepped back, still holding hands. She started to turn, before leaning back in and whispering in my ear, "I know my girl had good taste". Then she slowly and quietly returned down the hall, blowing me a kiss over her shoulder. Another glass of water, stunned by what had just happened, and I returned to bed with K.
That was not the only time that Cuckquean Mother and I had sex. She had an uncanny knack of orchestrating situations where we'd find ourselves alone together. It was weird, wrong and confusing all rolled into one.
It was also amazing.
Home – Cuckquean Mother
New to new experiences, want a female that is down to tease us/him and start off slow if that makes you feel comfortable. It doesn't necessarily have to be a threesome if you don't feel comfortable but we can discuss what would be fun to try ☺️ also I need new friends lmao oh and we can go on small dates and even have a friendship, it's whatever makes you feel comfortable!?
We'll have drinks, pizza and music to make it fun because we're actually really fun people lmao
Pipe Dreams – Cuckquean Mother
I want to find another woman that I can bring home for my husband. I want to watch it all. If you enjoy kissing and make out sessions I would so love to be tied in a chair spread wide and forced to watch another woman with my husband I want to watch the slow for play , the kissing all the stuff that leads to an amazing sex session.
I want to watch as another woman takes my husbands cock in her mouth knowing she is making him hard hear him moan all the moments before and during , I want him to tell me how much tighter her pussy os than mine, how much better she can give head All while I am tied unable to look away the smell of their sex in the air . (Her wet panties in my mouth) I want to know he is fucking her bareback , I want to watch as he cums inside another fertile better woman.
Then have him come over and remove her panties from my mouth only to smack me across the face and force his dick down my throat , making me lick her cream from my own husbands cock making him hard again .
Then have him untie me and reposition me and then restrain me as she forces her cum filled pussy in my mouth as I watch my husband lube her and himself for anal . Forcing me to watch as another woman gives him what I his wife will not .
It has taken me a long time to admit this.
Any ladies want to help me?
For many, having sex with someone else is a deal breaker, but for a cuckold or a cuckquean, it is purely physical and they trust their partner enough to share this experience.
You and your partner are the only ones who can fully realise what your love is capable of handling and define what sex means for you. The most important aspect of trying any new sexual conquest is having an open and honest conversation about it first.
The fetish has aspects from both voyeurism and S&M, but also has many individuals feeling hot and heavy due to the fact that being with someone outside of a committed relationship is "naughty" and considered sexual deviation.
Know the facts and figure out if there is a suppressed Cuckquean waiting to get out of you!
Meet Me – Cuckquean Mother
Meet me
There, at our spot in the tall grass and up against the fence
Meet me
There, where we've met so many times before
In the stinging cold, and under the hot summer sun
Meet me
There, where you've lowered my pants,
Lifted my sundress, reached under my shirt
Exposed me, fucked me, hurt me, kissed me
Meet me
There, today, NOW
The desire, deep and insistent
Kiss me hard, tongues dancing, heady rush
Slap me, choke me, want me, need me
Meet me
There, again and again
Feed me, use me, take me
Make me YOURS
Your friend, your lover, your obsession
Your good girl
Sadly stuck at work on another weekend, I'm bored out of my mind. There's nothing going on but I need to be here "just in case." I log into my favorite chat app and see that you're online. It's odd for a weekend when you're normally off enjoying the beach or running errands.
I shoot you a quick message about my surprise and you respond instantly. You're hungry for me and hoped I'd check for you. Your messages are just shy of begging to see me. I glance at the clock and notice it's about 20 minutes until lunch break. With much disappointment you concede to wait the 20 minutes for my lunch. Time seems to start moving backwards as anticipation builds.
I'm flying out the door and out of the parking lot in moments when it finally hits time to break out for lunch. I try to stay close to the speed limit but it's harder than I thought it would be. I pull up in front of your house and slide out of my car, take a deep breath to steady my nerves, and start up the sidewalk. I don't even get to knock on the door before you have it open, grabbing my shirt and pulling me inside.
I don't even register what your wearing before our lips come together. Our kisses are passionate and aggressive. My hands haven't left your sides as I keep you held tight against me.
Your hands wander up to my chest and push me back. I have time to let my eyes feast on your body as you drop the robe you were wearing. It also was all you were wearing. Our mouths come back together as my hands work to start stripping out of my own clothes, your hands helping to speed up the process. I stop long enough to take off my boots and realize we've moved down the hallway and almost into the bedroom, a trail of my clothes left in our wake.
As I stand back up I grab your upper arms, turning you and throwing your upper body onto the bed. You're left bent over in front of me. I need no further arousal to be fully erect and as I run the tip of my cock head across your pussy I can tell you dont need any further teasing either.
I line up and push just far enough in to let the first inch of my swollen cock slide into you. Both my hands grip onto your hips. Without and further prompting I slide fully inside you with one full stroke. Your moan and gasp are all I need to start working over your pussy. I use no mercy and start with a hard and fast rhythm. I need to fill you. You need me to fill you. Carnal lust is all that consumes us both.
Your face is buried in the sheets but you work your hips back to meet mine. It increases the force of our bodies coming together. Each time our bodies come together I feel my orgasm build. I refuse to finish before you though, so I slide my thumb onto your tight, puckered ass.
Rubbing furiously on that tight cluster of nerves and burning more pleasurable sensations through your body. I feel the first jet of my cum spray inside you and it was all you needed to push you over the edge. Each time my cock spasms your pussy pulses and squeezes to milk more cum from me.
I slowly ease back out of you as your legs give way. You hold your body on the bed, but still panting and gasping.
"I needed that so bad," you mutter as I'm already slipping into m