Start your Unicorn Search Here
Where does a couple start their Unicorn Search? How To Find A Unicorn: We give every couple the best tools to help when setting out on a Unicorn Search.
Unicorn Search
Sarah and I had a friend, Joe, staying with us for the weekend. It had been almost a decade since we had been in Iraq together, so he wanted to catch up. We thought it would be a good idea to invite my friend Kelly over to possibly hook up with him. Sarah didn't always appreciate Kelly. Kelly was 5'6'' about 130lbs with wonderful DD breasts. She was gorgeous and had a tight body from working out. Sarah believed Kelly had a crush on me, so Sarah kept her at bay.

The evening started with Joe and I grilling out back while Sarah and Kelly were inside drinking wine. Every time I came in the house, I noticed they were laughing and talking up a storm. I was very grateful that they weren't fighting. Joe kept asking about Kelly, but he was nervous about making a move. I attempted to get him to flirt; Joe wasn't used to talking to beautiful women.

Kelly walked out to give us beers, so I nudged Joe.

"Hello gentlemen. How is the cooking going?"

"It's going great. Did you know Joe here served with me in Iraq. We were on many of the same missions."
"Is that right? What do you do now Joe?"

"I work for DoD."

"That must be interesting."

"Yeah, I guess."

There was an awkward silence as Joe was being shy and looking at his feet.

Kelly went inside, and I slapped Joe at the back of the head.

"You better fucking step up. Kelly is hot as fuck and has a great body. Get it together."

Joe and I brought the food in as Sarah set the table. It was our hope that we could get Joe laid. We were going to have some dinner, wine, and then go to the basement for some Netflix and hopefully chill.

Conversation was going well between Sarah, Kelly, and I. Joe was sitting and listening without saying much of anything. Every time we tried to pull Joe in the conversation, he would say a couple words then sit back quietly. Sarah and I were getting frustrated because he wasn't picking up what we were trying to do.

Sarah: Maybe we should go downstairs and watch a movie.

Kelly: That's a great idea.

We have a futon in the basement that Sarah had converted to a bed. Joe was on the nearest side with Kelly and then Sarah. I saw Sarah had put Kelly beside Joe hoping the two would get handsy. Sarah started a scary movie and pulled a blanket up on everyone to possibly hide any playing that Joe or Kelly would want to do.

The four of us laid on the futon watching the movie while Sarah and I whispered to each other.

"Baby, I hope they start to play and he gets laid."
"I know. He served with me, and he wasn't like this in Iraq. He was cool and chill."

"Either way, tonight I want your dick in me. I'm so horny thinking of them maybe fucking in our guest room.

About thirty minutes after our conversation, I noticed Kelly was putting her head into the pillow. I smiled thinking about how Joe must be teasing her. Maybe he was even fingering her while we were all laying there. My heart began to race at the thought of Sarah and I hearing them fuck tonight in the guest room across the hall from our bedroom.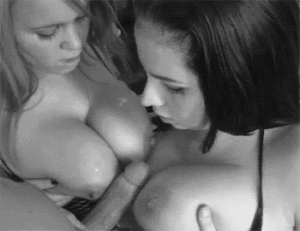 While entranced in the movie, I heard Kelly almost squeak. I turned to look at her, and my wife leaned over to whisper in my ear.
"Baby, I've been fingering Kelly since the movie started. We are going upstairs. Care to join?"
I just stared at her in awe and shock. I looked over and noticed that Joe was oblivious there laying at the end of the futon. It was my wife and not him that was playing with Kelly throughout the movie. They both stood up and walked up the stairs without saying a word. Joe looked at me.
"What's up?"
"I don't know. Hold on. I'm going to see what's going on."
As I made it to the top of the stairs, I saw Kelly had my wife on guest bed and was pulling her underwear off.
"Are we inviting Joe up too?"
They both looked at me and simultaneously said no. I went back down and told him that unfortunately he was going to be alone for the night. I felt terrible, but I also wasn't about to miss this opportunity because he was awkward as shit.
I made it upstairs in time to see that Kelly was eating my wife's pussy. Sarah had her hands running through Kelly's hair and was squirming at her touch. My wife looked up at me and smiled as Kelly was teasing her clit.
I pulled my jeans down and started to stroke myself watching the two of them. Sarah beckoned me over. As I stepped closer, Sarah took me in her mouth. The warm sensation as the head slid through her lips was intoxicating. Watching Kelly lick my wife's pussy as she was blowing me was more than I could imagine. Sarah was getting me harder than I thought I could be. She kept moaning around my dick. I began to slowly fuck her face when she pulled back and my dick plopped out of her mouth.
"Baby, please fuck Kelly so I can watch."
That's all the encouragement I needed as I moved behind Kelly. She was pushing her ass back knowing I was about to use her pussy. I stepped forward and slid my dick along Kelly's lips; her juices making my dick glisten. I pushed forward and felt her sweet hot pussy envelop my dick. I grabbed her hips and moved with their motion. Kelly moaned and my wife wasn't even paying attention anymore.
Kelly had her to the point of almost orgasming … Sarah was riding the pleasure as Kelly continued to lick her pussy. As I was fucking Kelly, I watched Sarah orgasm from Kelly's tongue Sarah dropped her hands to her side and was catching her breath as Kelly laid forward and rested her head on my wife's stomach with me fucking her from behind. My wife began running her fingers through Kelly's hair as I fucked her. My wife and I smiled at each other as I fucked Kelly.
"Yes baby. Fuck Kelly for me. Giver her that nice dick. You want to cum in her pussy for me?"
Kelly reached up and began playing with Sarah's nipples as I was fucking her, and I couldn't take anymore. I thrust forward and came hard in Kelly's pussy. I was so upset. I wanted to last longer and fuck both right after each other. The girls didn't help.
"Ray, did you just cum in me?! Already?"
"Baby, I wanted some dick too! I didn't mean to cum in her now!"
I climbed on the bed beside my wife. Sarah reached out and lifted my now limp dick up. Both of them were pouting and looked pissed.
"Okay ladies. I'm sorry you were so hot I couldn't help it. I do have a solution. Joe can come up here and play. I know he's been awkward, but we all called him donkey in Iraq. It's at least 9 inches."
Both of them lit up at the idea of having 9 inches. Sarah handed me my phone and I text Joe to come up to the guest room.
Sarah and Kelly switched places so that Kelly could have an orgasm too. I scooted over to the far corner of the bed against the wall so I could watch. My wife knelt and began licking Kelly's pussy lips. She was teasing her as Joe stepped into the room. He began undoing his pants and Kelly reached out her hand to get his dick.
"My god you weren't kidding. It's huge."
I smiled down at Kelly as she was shocked by the size. My wife hadn't even looked up from Kelly's pussy yet to see it. Kelly took as much of his dick into her mouth as she could. Joe is at least 9 inches and very thick, so she hadn't got all of it in, but I could see his dick impression moving in her throat as he was deepthroating. She would pull back to breathe every couple of strokes as he was now fully hard. I knew she was having fun, but I wanted to see him fuck my wife.
"Go ahead Joe. Fuck my wife's tight pussy."
Joe's eyes were sparkling as he positioned himself behind my wife. Kelly was pulling Sarah's head into her pussy grinding her clit against my wife's face. I couldn't see Joe entering my wife, but I knew when it happened because Sarah gasped and lifted her head up.
"oh my God! Slower just a little slower. Jesus it's huge!"
Sarah was grabbing both sides of the bed; pulling at the sheets as Joe was trying to get his monster cock in my wife. She wasn't even licking Kelly anymore, so Kelly had started to play with her own clit watching Joe fuck my wife. After several strokes, Sarah was handling it a lot better and I could see the pure pleasure on her face.
"Yes God just like that. Fuck my pussy Joe! Use me!"
Sarah went back to licking Kelly's pussy as Joe was fucking her fast and hard from behind. The sounds of Sarah licking Kelly's pussy and Joe fucking my wife were starting to get me hard again. I turned sideways and pulled Kelly's face to my dick. She started to suck on it, and I couldn't help but wonder what it must feel like sucking on my 7 inches after just having Joe's beast in her mouth. I was getting a good rhythm going with Kelly's mouth when she pulled off and started to orgasm from my wife's work. Her body began to tremble, and pleasure was rolling through her.
My wife had her head resting on Kelly's pussy as Joe fucked her. It was like Joe was just using her as a sex doll. Sarah didn't help with her nasty talk.
"Use me Joe. Yes, fuck my tiny pussy. Stretch me out. You going to cum in me? You want to cum in your friend's wife? Fill my pussy up Joe."
I lay there stroking while Kelly rested her head next to me running her hand along my thigh. Both of us were entranced watching Joe fuck my wife. Sarah was glistening with sweat when she began to orgasm on Joe's dick.
"God yes. Keep fucking me. Keep going. Harder. Yes!"
I wasn't sure I had seen her cum that hard before from just one guy. My wife kept cumming with wave after wave of pleasure running through her. It sounded like she orgasmed twice, but I wasn't sure. She almost collapsed on the bed when she was done. She just lay there as Joe was slowing down but still fucking my wife. I couldn't believe he hadn't cum yet from that. Kelly turned to lay her head on my stomach, so her pussy was at the edge of the bed.
"I'm next big guy!"
Joe slowly pulled out of my wife and I saw that his dick was still rock hard. He had obviously not cum yet. I began playing with Kelly's breasts and nipples as Joe was rubbing his dick along her lips. He was so big, I wasn't sure how he was going to fit in her tiny pussy. Joe began feeding his dick into Kelly's pussy little at a time. She grabbed my hand and was squeezing hard as he stretched her out. I could see it was a little painful but also pleasure.
"Yes, keep going. Keep going. Just like that."
Joe was slowly sliding back and forth with each thrust pushing a little deeper into Kelly. My wife had crawled up and laid her head on my thighs while watching Joe fuck Kelly. At this point, Joe finally pushed all the way in.
"oh my God. Yes! That's amazing. Fuck me Joe. Use me like a dirty slut. I'm your whore tonight!"
I had never heard Kelly talk like that, but she was obviously entranced by Joe's cock. Joe began rocking back and forth fucking Kelly's pussy as she asked. He was looking her in the eyes while his hands had her by the hips. He was using her like a dirty whore. Sarah reached up and began fondling my hard dick; she was gently stroking it while she also touched herself.
"Baby, he fucked me so good. I've never had one that big. I want it again. Can I please have it again."
"Yes, baby. As soon as he fucks Kelly."
My wife continued to keep me hard while we watched Joe and Kelly. By now, Joe was fucking Kelly with all he had. His hips were striking hers with every thrust forward and she was bouncing off my body. Kelly had grabbed the back of my neck and was using me for leverage while Sarah held her other hand. They were fucking hard. The sweaty but quick fuck of two people who can't get enough of each other. Kelly began to orgasm and was digging her nails into the back of my neck.
"Yes yes yes yes. Keep going. Yes yes yes."
She went through one orgasm then hit another and she wasn't making any legible noises. She was just grunting and moaning. I looked down at my wife and she was licking her lips with envy and lust. Right as Kelly was finishing her orgasm, I could see Joe had started his. His eyes got big and he started to try to pull out. I knew though that he had already cum some inside of Kelly.
When he finally pulled his dick out, it started to spurt load after load of hot cum across Kelly's breasts and stomach. My wife, quicker than I had ever seen her move, jumped in front of Joe's dick and wrapped her lips around him. She began sucking like her life depended on it. She didn't miss a drop once she got him in her throat. He put one hand on the bed post and the other on the bed as my wife kept sucking through his orgasm.
I could hear her moaning on his dick. She sucked through the trembling and extra tingling that occurs when a man cums and the pleasure is too much. When she finally pulled off him, she focused her attention to the drops of semen on Kelly. Sarah leaned over and licked every drop off Kelly then they both kissed as Joe and I watched.
The both of them lay there kissing each other for a good five minutes as Joe and I enjoyed the show. Sarah would nibble on Kelly's nipples and Kelly eventually slid a finger in Sarah. I was stroking thinking of joining in when my wife looked back and saw Joe was semi-hard again.
"Ok Donkey, come on over here and fuck me while I'm on Kelly."
I was a little disappointed because my balls were starting to hurt from being hard for so long again. I couldn't really complain because as soon as he entered my wife, she grunted out of pleasure.
"God yes. Fuck me Joe. Fuck my pussy. I want your cum in me!"
Joe grabbed her by the hips and started to use and abuse my wife's pussy. She was bouncing off of Kelly with the both of them trying to kiss while Joe was fucking her. The whole bed was shaking as Joe ploughed my wife. I saw Kelly reach down and I knew she was wrapping her hand around Joe's cock as he fucked Sarah.
"Yes keep doing that Kelly! I'm gonna cum!"
"Don't you dare pull out! Cum in me Joe. Cum in your friends wife. Let me be your whore. Cum in my pussy! Whose pussy is this Joe. It's your pussy tonight."
Joe kept fucking and Sarah began orgasming again. Joe started to cum and it pushed Sarah into another orgasm. They were cascading as Joe fucked her. Their bodies were sweaty and entangled as Joe slowly pulled out of my wife's pussy.
He reached down and grabbed his pants then without a word walked downstairs. My wife rolled off Kelly and lay there.
"Baby I'm guessing you're not good for another fuck?"
"Sorry no. I'm spent. Fuck Kelly."
Unicorn Search Kelly sat up and climbed on top of Unicorn Search me. She grabbed my Unicorn Search dick and guided it to her Unicorn Search pussy. She slid down gently on me and smiled down at me. I knew then that my Unicorn Search wife was right. Unicorn Search Kelly did have a Unicorn Search crush on me. Unicorn Search Kelly Unicorn Search  fucked me like she would a Unicorn Search lover. She Unicorn Search  rode me nice and slow circling her Unicorn Search hips and Unicorn Search squeezing my Unicorn Search dick with her pussy to milk me. It felt extra amazing because I could feel that Joe had fucked her.
She ground down on my Unicorn Search dick until I started to Unicorn Search cum. Once I Unicorn Search unloaded in her Unicorn Search pussy, she laid on my Unicorn Search chest. Unicorn Search Sarah positioned herself beside us. We all fell asleep almost instantly, me with my Unicorn Search dick in Unicorn Search Kelly with Unicorn Search Kelly on my Unicorn Search chest and my Unicorn Search wife snuggled up next to Unicorn Search us.